About: LGBTIQ Community
Lesbian Match Maker pledges support for marriage equality.
Lesbian Match Maker has pledged it support for same-sex marriage, joining more than 1600 Australian organisations in signing an open letter of support for Australian Marriage Equality.
A Yes vote is crucial, not just for the many Australians who desire to marry the person they love, who are currently prevented from doing so. A Yes vote ensures that all LGBTIQ Australians enjoy full equality. We support them by voting YES.
In 2017, the case for Marriage Equality speaks for itself:
By not allowing same-sex couples to marry it sends out the message that it's okay to discriminate on the grounds of sexual orientation and gender. It also fosters the notion that same-sex partners are not capable of the same levels of love and commitment associated with heterosexual marriage
Marriage will benefit from being seen as less discriminatory and more relevant
Marriage creates a bond between partners and their families from which same-sex partners are currently excluded
Marriage offers health and well-being benefits, and security for partners and their children, from which same-sex partners and their children are currently excluded
Australia is one of the last remaining developed nations which does not recognise same-sex marriage
A YES vote is an appeal to all who call Australia home be given equal access to what is recognised as a human right to marriage and family. It is a appeal for an end to the notion of LGBTIQ people as inferior to heterosexuals. It is an appeal for unity instead of division.
Make your vote count and join us in voting YES – even if you think marriage is an outdated institution.
Find out more about the campaign here. Read the open letter of support and see who else has declared their support here.
Lesbian Match Maker is committed to creating a more inclusional and diverse platform for people to express themselves
While there have been significant leaps forward in LGBTIQ rights and acceptance in recent years, we appreciate that there is still much work to be done. As more LGBTIQ people share their stories, the public's understanding of sexual diversity and expression increases and we aim to lend our voice to this agenda.
Lesbian Match Maker is proud of the community we have built and we are constantly looking at ways to make the website a more inclusional and diverse platform for people to express themselves. We invite you to join our safe online community of like-minded people who are looking to connect, find friendships and kindle romance.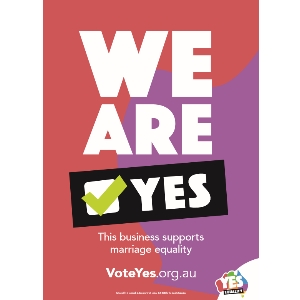 What our members are saying about their Lesbian Match Maker experience
"Everyone was very welcoming and understanding to a newbie like me. I have met some lifelong friends on here."
"Since using this site I have made some great friends and met some wonderful sexy women! Thankyou to LMM for making it possible! :)"
"Thank you for helping me find the love of my life."
"We kicked off an amazing friendship! We had both had similar experiences and were a sympathetic ear and a caring shoulder to the other - Thankyou LMM xx"