Putting the love into Marriage Equality.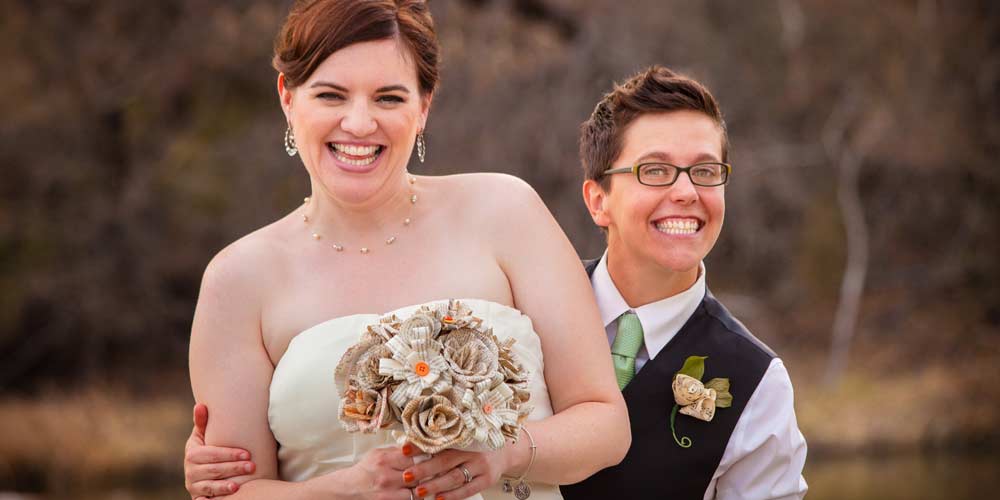 In 2017 Lesbian Match Maker pledged support to the Marriage Equality campaign in Australia. As the site was born and bred downunder it was something very close to our hearts and, like millions of Aussies, we believe that love is love regardless of gender.
Thankfully the referendum saw a resounding YES vote making same-sex marriages a reality for thousands of gay women & men in Australia.
The fight for marriage equality has been a long and arduous journey. As early as 1970, just a year after the history making Stonewall riots, a gay couple who applied for a marriage licence in Minnesota, USA had their application rejected. Denmark became the first country to recognise same-sex unions in 1989 and The Netherlands was the first to introduce full legal marriage equality in 2001. Now over 29 countries around the world allow gay couples marry and be recognised with the same rights enjoyed by heterosexual couples. Our hope is that one day who you love won't be seen as a reason to comment or legislate against and two people can declare their love for each other without it being argued in a court of law.
Find women for serious relationships on Lesbian Match Maker.
Proudly Australian, we've been bringing women who love women together for over 15 years. And with Lesbian Match Maker expanding internationally and same-sex marriage law becoming a reality worldwide, there's never been a better time to join and find women looking for serious relationships.
We know it can be hard to find that special someone when the majority of websites are very hetero focussed, which is why joining a site exclusively for gay women is the smarter way to date. As an established and free lesbian dating site our team is highly skilled to ensure we bring you the best lesbian dating experience available.
Lesbian Match Maker is proud of the community we have created and we are constantly looking at ways to design a more inclusive platform for LGBTQ people to express themselves. We've always attempted to be a frontrunner when it comes to discussions around gender and in 2016 we were the first Australian site to add 30 gender options to allow trans and gender diverse (TGD) members to express their gender diversity.
Lesbian Match Maker is free to join, and our sign-up process is designed to get you on site quickly so you can browse and start connecting with local gay, bi, gender diverse and queer women. The site is fully optimised for your mobile device so you can browse and connect with members, instantly, anywhere, any time.
So if you're ready for a serious relationship and have been disheartened with other LGBTQ dating apps join Lesbian Match Maker and find out why our features make us one of the top LGBTQ dating websites for women.
Testimonials from Lesbian Match Maker members.
"Since joining i have made some great friends that i will have for a lifetime, I also found my soul mate."
"Thank you for helping me find the love of my life."
"Just want to say before I go that this site has been great to be a part of. I came on here as bi-curious and all the girls in the chat room were wonderful."
"Since using this site I have made some great friends and met some wonderful sexy women! Thankyou to LMM for making it possible! :)"