Creating your lesbian dating profile: the do's and don'ts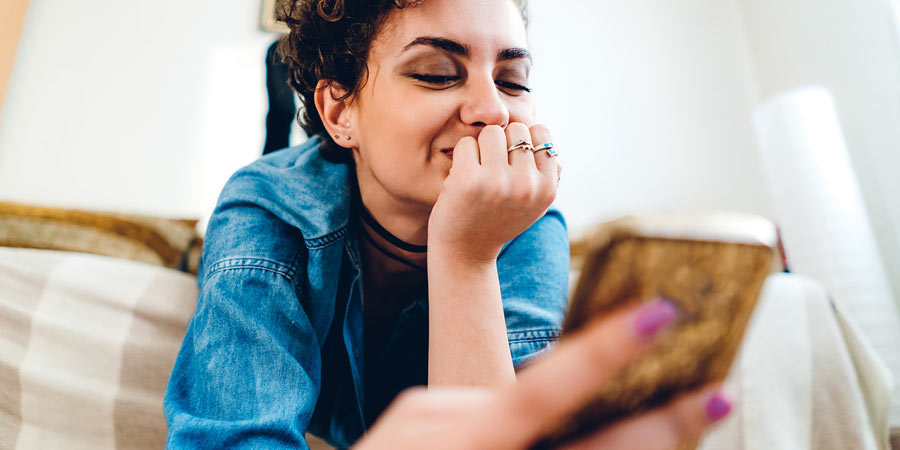 The internet is a lesbian and bi woman's best friend when it comes to picking up women. We live in an age where lesbian bars are practically a thing of the past, except for the occasional pop-up girl's dance party. Which of course is a hell of a time, grinding up against the bodies of hundreds of other horny lesbians. But let's be real, a club is not the place you get to know someone, emotionally anyway. So how do you meet other lesbians and queer women for dating? All hail lesbian dating apps like Lesbian Match Maker, which help you connect with other women seeking women. But if you want to meet women in the abundant digital sea of women, you have to have a memorable profile. Here are my tips for writing the perfect lesbian dating profile so that you stand out.
Introduce yourself on your profile
Writing your bio can be a task. What do you say? How do you sum yourself up and what you're looking for in a few hundred characters? Do you specify what you're looking for or play it chill? Is now the time to let a potential lifemate know about your weird hobby or not? When it comes down to it, it's better to say something than nothing. Because I swear if a I see another profile that only says "Oh my god I hate these things!" I will never date again and I will die old and alone surrounded by rescue dogs or cats or something. Your profile is your opportunity to say something and to stand out. You don't have to write your life story (please don't). Just write a few sentences about what you're bringing to the table. Describe yourself and your interests or passions. If you're insanely passionate about bee keeping, collecting vintage sex toys or clown ornaments, I want to know that because specifics can be intriguing or engaging. They're a good conversation starter.
Yes, you have to write it yourself
Don't have a friend write your dating profile. I know, it's tempting because they know you, but if you do the profile is going to read like them and not you. Plus, they're hardly going to do all your correspondence for you. Your profile should be written in your voice, not like a friendly testimonial. Although now I feel thankful that ex-girlfriends aren't allowed to write testimonials on your dating profile. Eek.
Don't rely on emojis
Emojis are fun in the right context but don't get too emojinal. Resist filling up your lesbian dating profile with hoardes of emojis instead of taking the time to write about yourself. I don't know about you but when I'm confronted with smiley face emoji, thumbs up emoji, heart eyes emoji, blush emoji times 10… I feel like someone is relying on emojis in lieu of a personality. Harsh but true. Stick with a little write up about yourself and your interests, and slip in the occasional tongue or squirt emoji here and there if you must.
You should vaguely know what you want
I'm not talking about having a hard, extensive list of what you want, but have an idea of the type of dynamic or person that would suit your lifestyle and needs. Whether it's a part-time playmate or a relationship, having an idea of what you're actually advertising for is helpful to both attracting people and weeding the duds out. If you're unable to take on a full-time partner and you're only looking for a casual situation, just be upfront about it. You're more likely to attract what you're openly putting out there.
Upload more than one photo
Choosing a photo to represent yourself on your lesbian dating bio can be a daunting task. No one wants to upload photos that aren't representative of themselves and end up in a catfish situation. The key is to upload more than one photo of yourself. Also, keep your photos filter-free where possible. The dreaded combination of uploading only one photo of yourself or photos drowning in Instagram filters screams insecurity. Uploading a bunch of photos of you looking good and doing things that interest you creates more opportunity for you to connect with babes who are into or enjoy the same things as you. And on Lesbian Match Maker you have the option of uploading photos to a Private Gallery and only sharing that photo album with the women you choose to share it with.
Have fun
Online LGBTQ dating can be weird, and hard at first if you're not versed in the art of online lesbian dating, but try not to take it too seriously. Think of online dating as your wingwoman – it's there to help you practice for striking up conversations, talking to new women, going on dates and at the very worst, creating a circle of lesbian, bi or queer friends for you to talk about dating with.
Copyright © 2023 Amie Wee It is illegal to use any or all of this article without the expressed, written permission from Lesbian Match Maker and the author. If you wish to use it you must publish the article in its entirety and include the original author, plus links, so that it is clear where the content originated. Failure to do so will result in legal action being taken.
The content posted on this blog is intended for informational purposes only and the opinions or views within each article are not intended to replace professional advice. If you require professional relationship or sexual health advice you should consult with an appropriately trained and qualified specialist.